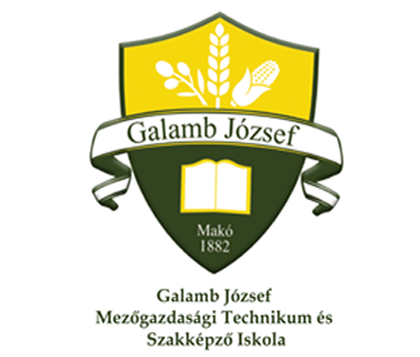 Hungary
The Alföldi ASzC Galamb József Agricultural Technical School and Vocational School will be 140 years old next year.
In its operation, from the training of industrial apprentices to agricultural education, the school has become an institution sensitive to the challenges of the era.
The institution has been maintained by the Ministry of Agriculture since 2013. As a result, our training offer was limited to agricultural training only. From 1 July 2020, our school, together with 10 other agricultural VET institutions, operates as part of the Alföldi Agrárszakképzési Centrum (Alföldi Agricultural Vocational Training Center).
The school currently has 18 classes with 270 students who can learn the professions of agricultural engineer, agricultural technician, agricultural engineer, gardener and farmer within the Agriculture and Forestry sector and employs 33 teachers.
The infrastructure of the school is also outstanding at the national level, as it manages 180 hectares of state land, and a nationally recognized certified "study garden" with a development of nearly one hundred million forints is at the disposal of the students.
We have set up a laboratory for the students in the main building of the school, which together with the staff of the Bay Zoltán Biotechnology Division in Szeged ensures the students to acquire knowledge of soil, water, algae, fungus and nutrient testing, as well as micropropagation, in addition, the laboratory provides a real service to local farmers. Since 2013, our school has been continuously acquiring the tools needed to teach agro-informatics solutions, which are mostly tools related to the precision management sub-field of agro-informatics.
In the school's garden, next to the existing foil houses, we plan to build an additional 500 square meter foil house, which will show the operation of precision gardening with the help of the most modern technology. It is now a 3-year tradition to hold in-house in-service training for our school teachers every August.
The Alföldi ASzC József Galamb Agricultural Technical and Vocational School joined in 2014 as a partner of the Zöldségcentrum Ltd, Zoltán Bay Applied Research Non-Profit Ltd. and Lavina Foundation (Innovative Non-Profit Foundation for Agro-Biotech Business Development in Action) in a joint application for algae research.In 2016, a joint research laboratory development was started in the school building to serve the partners' goals and to develop the school's students. We have met several times with the staff of the Pro Scientia Naturae Foundation, which is a partner in the current project, not only in the organisation of the Lavina Foundation, but also in the planning of joint work. Together with the Zoltán Bay Applied Research Nonprofit Ltd. we involved Pro Scientia Foundation in several projects running in Hungary, thanks to which a good relationship was established.